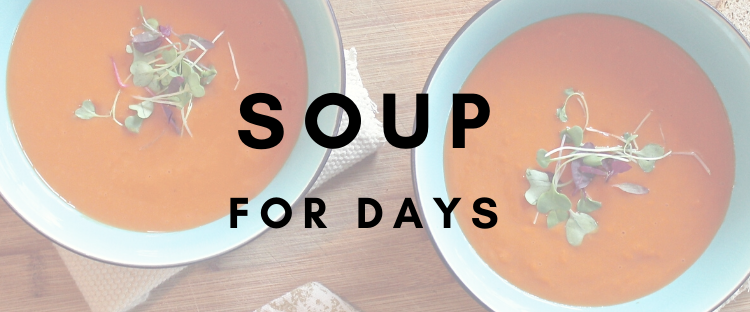 There is nothing like coming in from the cold winter air and sitting down to a steamy, big bowl of soup!
This blog has two recipes shared by IRL employees!
So, grab a cup of coffee and start thinking about your next snow day meal!
______________________________
The first is an easy, throw together recipe from our Human Resources Manager, Tammy.
This is one of her favorite, go-to soup recipes and there is no measuring – so it is all up to your preference!
Ingredients:
Tomatoes

Tomato sauce

Deer burger

Onions

Garlic

Cayenne pepper

McCormick's Chili seasoning
Cook deer burger & drain.
Saute onions.
Add burger, onions & the rest of the ingredients to a large pot.
Bring to a simmer and enjoy!
______________________________
The second recipe is a favorite of our Social Media & Marketing Expert, Nikki. This Loaded Baked Potato Soup can be made in a slow cooker which makes it super easy!
Ingredients:
4 slices bacon

2 lbs russet potatoes (peeled & chopped)

3 cups chicken stock

1/2 onion (chopped)

1 cup shredded cheddar cheese

1 tablespoon butter

2/3 cup soup cream

1/2 cup heavy cream

Seasoning [garlic powder, salt, pepper for taste]


Cook bacon and chop
Place potatoes, chicken stock, onion, butter, bacon & seasoning in slow cooker.
Cook on low heat for 7-8 hours or high heat for 3-4 hours.
Mash potatoes until desired consistency, with a potato masher.
Stir in cheese, sour cream, heavy cream and seasoning.
Cover and cook for another 20 minutes.
Serve and enjoy!
______________________________
While you are savoring your bowl of soup — scheduled your free estimate for the outdoor project you are daydreaming of by clicking here or giving us a call at 717-285-2750!
It may be winter but we are ready and looking forward to meeting with you!