Landscape Installation
Investing in your home with new landscape installation is a great way to build value!
Our experienced landscape installation crews can work with one of our designers using our design or another design to create a beautiful landscape on your property. We can handle any project from creating new landscape beds with plantings, to filling in existing ones.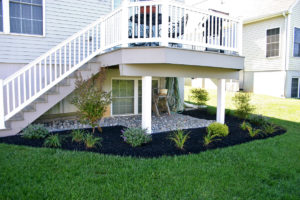 Our new landscape installation process usually starts with edging the landscape bed with a machine edger to give it a clean look and to keep weeds and grass from growing into the bed as quickly. We then cover the bed with professional grade weed barrier fabric. It is porous enough to allow water through to the plant roots, but at the same time does not allow for most weeds to grow up through it. We will then install the plants and water them as needed.
To finish it off we neatly mulch with premium mulch, even going the extra mile to smooth it out by hand to make sure it's perfect.
Sod Installation
We provide quality sod installation services to the Lancaster County area. Our team of professionals are  trained in laying sod; providing you the benefits of an instant lawn and curb appeal.
Contact us today for more information.