Backyard Grilling

Do you love grilling & picnic season?
We do too! We love being outdoors and the more food the better, right?
This blog has a few simple recipes just in time for all the summer barbecues. These sides and desserts go great with your grilled hamburgers, hot dogs and kabobs!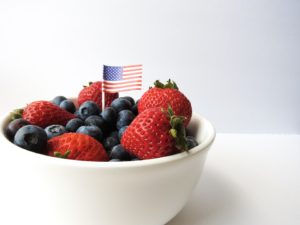 We are days away from the 4th of July! So, let's start off with those patriotic recipes! Strawberries or raspberries and blueberries can make almost any recipe look festive.
Bake your favorite vanilla cupcake recipe, add vanilla icing and decorate with a few berries on top – ta-da you have red, white and blue!
Or place fresh blueberries in a small bowl and put in the top left corner of the tray. Then alternate rows of strawberries (or raspberries) and white chocolate covered pretzels and make the design of the American Flag!
If you are looking for a healthier option – you can also try this fruity patriotic recipe from Eating on a Dime.
Red White and Blue Fruit Salad
16 ounces of strawberries (washed, sliced in half)
1 pint of blueberries (rinsed)
3 bananas (sliced)
1/8 cup of honey
1 fresh lime
Combine all fruit in a bowl.
In another bowl, mix the honey and squeeze the lime juice into the bowl.
Drizzle the honey lime glaze over the fruit and stir to coat. Then either serve or refrigerate.
If your summer plans include a Hawaiian Luau themed party or you just love coconut – then here is a great dessert from Raia's Recipes.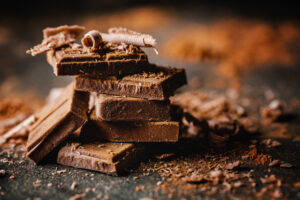 Chocolate Coconut Bars
¼ Cup of honey
2 cups of coconut
¼ Cup of coconut oil
½ cup chocolate chips
Melt together on the stove
Pour coconut mixture into an 8×8 pan and push down
Pour melted chocolate on top of the coconut and let set in the refrigerator for 2-4 hours.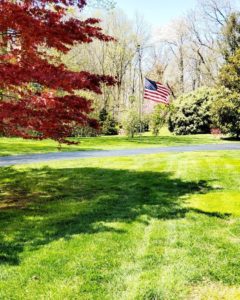 Lastly, Better Homes & Gardens published their July 2019 magazine and there are lots of fun hot dog recipes! BHG reports that the more toppings for your hot dog bar the better – and we couldn't agree more! There are, of course, the usual favorites of ketchup, mustard, relish and sauerkraut. But, here are some other fun options to boost your condiment game: pickle slices, jalapenos, caramelized onions, and cole slaw.
You can check out BHG's full Fourth of July party guide here.
We know how important a healthy lawn is, especially when hosting picnics and get togethers throughout the summer. If your outdoor space is in need of some updating; contact us today to schedule a free consultation.