Seeding, Sodding & Artificial Turf
Seeding, sodding or artificial turf – Indian Run Landscaping can give your lawn a fresh new start!
There are important factors to think about when considering a new lawn; turf selection being the biggest.
Secondly, site location and prep work. For example, is your lawn in an area where seed might wash away with runoff when it is installed? If so, sod is the better choice.
And lastly, time. Do you want a healthy green lawn now, or are you willing to wait for seed to germinate?
Scroll all the way down for information about artificial turf!
Seeding promotes a stronger initial root system and is typically less expensive. For the preferred conditions for growth and germination; the best time to seed is late summer to early fall. This gives the seedlings time to grow and establish a healthy root system for winter as well as compete less against weeds.
For optimal germination, seed should be applied over roughly 4" of topsoil, then fertilized, and covered with straw to prevent the environment from interfering with the germination process. Afterwards, water only when needed.
Grass usually needs 6-12 weeks to become established depending on the seed mix and location.
Sod has rapid establishment, is good for areas prone to erosion or high runoff and can be laid any time during the growing season. Two things to keep in mind; sod is more expensive than seeding due to it being more labor intensive. And, it not come in as many choices as seed mixes.
A big selling point for sod are the instant benefits it provides, such as erosion and runoff control, cooling effects, and reduces allergens. Once installed, sod should be kept moist, but not saturated, for a couple days following the installation. This helps it take root. Watering can then be gradually reduced and, after a couple months, it can then be treated like an established lawn.
Site preparation for both seeding & sodding is critical.
If preparation is done correctly, it could simplify lawn maintenance for many years and give the owner a healthier looking lawn in the long run. Soil tests are a great way to figure out exactly what kind of soil you are working with in regards to your location. The best type of soil for growing turf is sandy loam (mostly sand with some clay and silt). Other soils will typically need more care and/or amendments to yield a healthy lawn.
Either way, Indian Run Landscaping can give your lawn a fresh new start! Contact us today!
Are you thinking about artificial turf?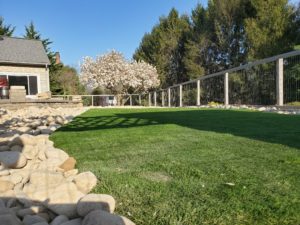 Simply put, artificial turf takes the place of soil and grass. It really comes down to personal preference and the use of your yard. Most recently, our artificial turf installation projects have been for homeowners with dogs. They converted a portion of their yards to artificial turf so their pups would not track dirt and mud into their homes when they came in from outside.
You can click here to read our blog about artificial turf and some of the benefits. And check out our projects page to see specific details about our most recent installs.