Artificial Turf

Artificial Turf
You know how we feel about natural turf grass and all the benefits to our health and the environment! However, we also understand that there is a place for artificial turf. If artificial turf it is an outdoor project you are considering, we want to make sure you know some of the benefits.
The first positive is there is no maintenance. The time you would be spending mowing and fertilizing can now be spent with family. Artificial turf is a zero fuss option!
Secondly, they say when it rains, it pours – but with artificial turf, there are irrigation channels that allow the access water to drain away from low areas in your yard. Therefore, no puddles.
Do you have a sunny or shady outdoor space? It does not matter with artificial turf because the turf is not in need of the sun (or water) to grow. Add that to the pro list column.
Next on the list, artificial turf is safe for pets! This is one of main reasons we have installed artificial turf for families as it provides a place for the dogs to do their business without the fear of patchy and discolored grass.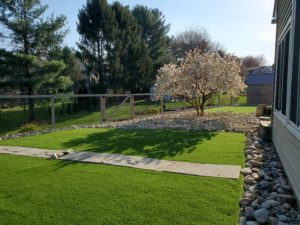 During the 2021 season alone, we have installed artificial turf multiple times – for our client's four-legged family members. Pictured left, is a project where we added river gravel as a border and under the tree for an "easy to maintain" design element.
Are you looking at installing artificial turf for sports and recreational purposes? Another big positive is that turf can be cut into various shapes, making it easy to install it for golf courses, bocce ball or tennis courts.
Lastly, the Susquehanna Valley often sees some periods of drought during the summer months. And although brown grass does not mean the grass is dead; for some homeowners the dry grass is unsightly and this is where artificial turf is a benefit. Because the turf is synthetic, there is no need for water. The only time water is needed is to occasionally rinse off the turf.
Artificial turf is an investment. There is a bigger upfront cost of installing artificial turf verses keeping your natural lawn healthy. But, overtime the benefits can outweigh the initial cost.
As always, we recommend confirming your budget before proceeding with any outdoor project. Your budget for the project is one of the first questions a lawn care professional will ask you upon meeting for a consultation.
Contact us today for more information regarding artificial turf or if you have read this far and you are feeling the need of your feet walking on natural turf grass – click here for details on our lawn care services.
Source: Heavenly Greens