2021 Landscaping Trends

2021 Landscape Trends
Over the past year, it is safe to say, we have all spent more time at home than ever before. Because of that, we have become more aware of the importance of having a relaxing outdoor space at home. As a result, the landscape trends for 2021 are no surprise and all stem from families simply wanting to make the most of their space. These are all good things, if you ask us.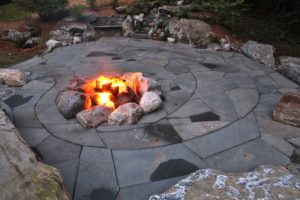 Let's start at the top, shall we?  Number one on our list of landscape trends are patios and outdoor seating areas; including fire pits, landscape walls and outdoor dining spaces.
Having a fire pit gives a family a place, outdoors, to enjoy their backyard and the company gathering around it. Roasting s'mores and hotdogs are a fun activity that the whole family loves and can be done all year long.
Outdoor dining areas allow a family to bring their normal indoor dining experience – fully outdoors. In fact, some families are even taking it up a notch and installing outdoor kitchens. Landscape walls can be used for retaining and garden as well as double as additional seating. We have to say, though, a professionally installed patio is always going to be a cornerstone for a useable outdoor space.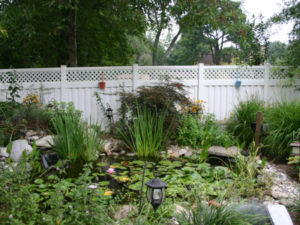 Next, on the list are water features! This includes bubblers, waterfalls, fountains and ponds. All of which, can provide stress relief. And – who doesn't need a place to relax and unwind after the year we have had, right?
Not only do water features create for a peaceful, serene outdoor space, they also make for a beautiful focal point in your yard, create a relaxing sound and provide habitat for animals.
Third on our list are native plants. According to The National Wildlife Federation a native plant is, "a plant that has occurred naturally in a particular region, ecosystem, or habitat." The opposite of native plants are exotic plants. An example of this would be trying to grow a palm tree – here in Central Pennsylvania.
Having native plants in flower beds, and throughout a property, gives the plants the best chance to thrive and survive. Native plants grow best in the soil for which they are intended; meaning their roots will be healthier and grow longer.
Quick tip for you; Ken's Gardens in Lancaster County has a great list of pollinator flowers and garden resources you can check out here! The National Wildlife Federation also states that planting native plants, additionally, helps the overall  environment.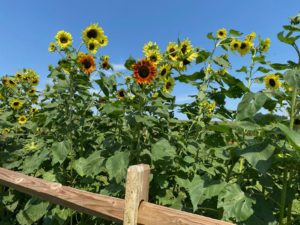 And, speaking of helping the environment; pollinator gardens are also on the 2021 landscape trend list. Sunflowers, black-eyed Susans, asters and coneflowers are all examples of plants that have pollen and nectar.
Did you know that bees prefer flowers that are white, yellow or blue? If you are wanting to attract bees, butterflies, hummingbirds, or all three – the color of the blooms can make a difference. Jolene Hansen of Garden Tech tells us, if you are also wanting a garden filled with homegrown fruits and veggies, having pollinator plants will help with the cross pollination.
Do any of these trends appeal to you? We can help with all of them! Indian Run Landscaping is a full-service landscape company. Meaning – we work with clients from the design and installation phases to follow-up and maintenance. Contact us today through phone, email or on our website by clicking here.