Ponds & Water Gardens

Ponds & Water Gardens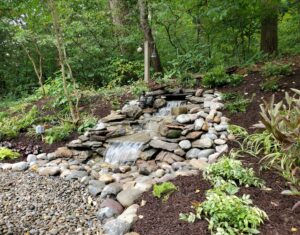 If you have read our 2021 Landscape Trends blog then you know that water features are on trend for 2021 and we do not see that changing anytime soon. Water features provide a relaxing environment to your personal outdoor space. So, we wanted to create a blog that would give you some ideas and inspiration for ponds and water gardens!
As with every hardscape and landscape install project; design and budget are key! We do all of our estimates, sales, design and installs – in house. The first two questions a design professional will need to have answered are:
What do you want to achieve as your end goal?
What is the budget range you would like to work within?
The same goes for patios projects, walkways, flower beds and water features! Once your budget is set, we can move forward with your wish list and we design from there.
Some other questions to think about:
Do you want a waterfall flowing into a pond?
Or, do you prefer a pond-less waterfall (as picture above)?
Do you want a center fountain or bubbler?
Do you like water features because of the tranquil sound they provide?
Are you wanting fish and animals to thrive?
We love taking your wish list and turning that into an outdoor space that is beautiful, where memories can be made! Each water feature is different from one installation to the next. We design each water garden to best fit your space. They say a picture is worth one thousand words – so, here are some visuals to help you decide which design features you like.
Have you started making a list of your dream outdoor space? Do you have questions?
Contact us today to schedule a free estimate! We look forward to creating a water feature that is beautiful and tailored just for your space!