Picnic Appetizers Blog

We love any holiday where we get to celebrate our veterans and active military!
So we start off by saying, "thank you" to those who have served our great country.
This blog is about easy picnic appetizers for all your Memorial Day weekend menus! We are always grateful for warm weather, time spent outdoors and delicious food!
_ _ _ _ _ _ _ _ _ _ _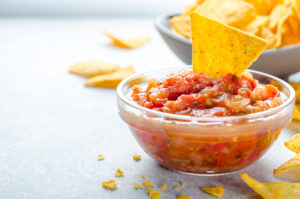 Ingredients:
14.5 oz can diced tomatoes and green chiles
5 pickled jalapeno pepper slices
1/4 cup chopped red onion
1 tablespoon lime juice
1/4 teaspoon ground cumin
1/4 teaspoon garlic powder
1/4 teaspoon dried crushed red pepper
1/4 teaspoon salt
Drain liquid from tomatoes, reserving 1 tablespoon liquid; discard remaining liquid. Place reserved liquid, tomatoes, and the rest of ingredients in a food processor [or blender]. Pulse until finely chopped. Cover and chill 1 to 24 hours before serving.
Serve with tortilla chips. Store leftovers in refrigerator up to 7 days.
_ _ _ _ _ _ _ _ _ _ _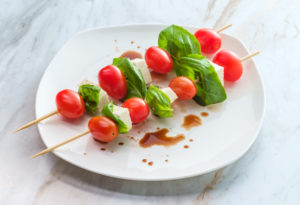 Ingredients:
1 pint grape tomatoes, halved
1 8-oz. package fresh mozzarella, cut into 1/2″ cubes
1/4 cup extra virgin olive oil
2 tablespoons balsamic vinegar
1/4 teaspoon salt
1/4 teaspoon pepper
fresh basil
32 (4″) wooden skewers
Thread 1 tomato half, 1 piece of cheese and another tomato half onto each skewer. Place skewers in a shallow serving dish.
Whisk together oil, vinegar, salt and pepper. Drizzle mixture over the skewers; sprinkle with basil and additional salt and pepper to taste.
_ _ _ _ _ _ _ _ _ _ _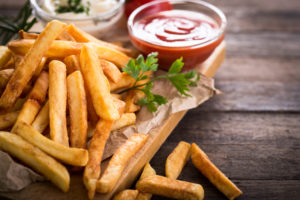 Ingredients
1 package frozen French fried potatoes
Salt
Pepper
Arrange french fries in a single layer, bake according to instructions. Sprinkle with salt and pepper.
Want to kick it up a notch? Barbecue Oven Fries: Omit salt and pepper. Sprinkle baked fries with barbecue seasoning and desired amount of salt. Serve with a spicy barbecue sauce.
_ _ _ _ _ _ _ _ _ _ _
Let's get your outdoor space ready for the season!
Contact us at the information below and we'll get a free estimate scheduled!
717-285-2750 | info@indianrunlandscaping.com