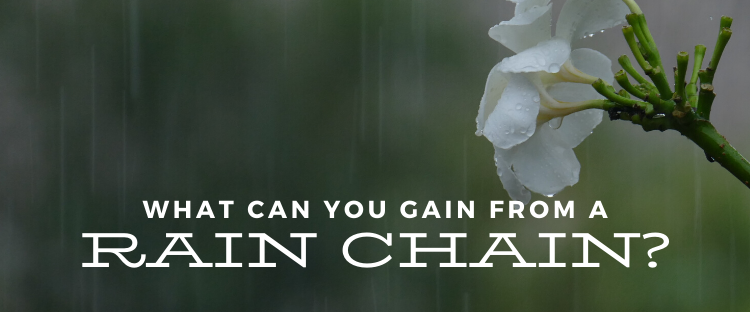 Springtime is commonly the rainy season for the Susquehanna Valley and Spring 2020 has been no different! We know, with rain comes beautiful flowers!
And a garden with pops of color may just be what we need right now!
Have you ever thought about the benefits your outdoor space would gain from having a rain chain?
Here, at IRL, we are big fans of water gardens, ponds & features! [You can see some of our favorite water garden projects below!] A peaceful waterfall and water garden can provide a serene environment – right in your backyard. A rain chain is simply another creative way to add a water feature to your outdoor space. Rain chains allow you to direct the water away from the foundation of your house, prevent large puddles and the over-watering of your landscape.
Rain chains are a design element that we would recommend adding to one or two places in your outdoor space. Meaning, rain chains do not need to replace all of your gutters (there are benefits for those too)!
So, what can you gain from the rain chain?
An aesthetically pleasing water feature, to play up your own personal style choice, add color and uniqueness to your outdoor space meanwhile – providing the perfect amount of water to your garden and lessening your chances of water getting to the basement and foundation of your house.
If you find it easy to relax around the sound of water trickling, maybe a water garden is something you would love! We can design water features in a size that fits your outdoor space and budget the best. And, with so many options like cascading waterfalls into a pond or pond-less waterfalls – there is something to fit everyone's style.
If DIY is your thing and you are wanting to make your own rain chain; check out the Better Homes & Gardens article here!
Spoiler: they are fans of rain chains too!
_ _ _ _ _ _ _ _ _ _ _ _
Is your outdoor space is in need of maintenance or updating? Or maybe you're thinking this the perfect time to add a water feature. We'd love to provide a free estimate for you and start making your landscape dreams come true!
717-285-2750 | info@indianrunlandscaping.com