Memorial Day

We love Memorial Day for many reasons.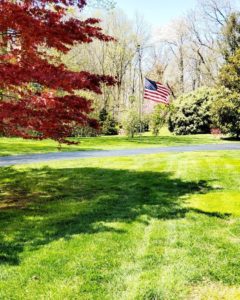 The first, of course, being that it is a day set aside to remember those who gave their lives while serving our country.  This holiday weekend brings together families, friends, and communities.
We love when we get to enjoy the company of loved ones and some tasty food. But, Memorial Day is also a great opportunity to talk about why this holiday is so important. And, there are many great resources to help get the conversation started.
Are you hosting a picnic this weekend? Here are a few things you can do to get your outdoor space ready for this weekend's festivities.
To start, we recommend cutting your grass as it will take more foot traffic this weekend than usual. We recommend keeping it at the length of 3″ – 3 1/2″.  Additionally, keeping your grass well hydrated as the weather gets warmer is also key in healthy lawn.
If you recently seeded your lawn, be sure to rope off that area so guests do not walk through the freshly planted grass.
If you are wanting some help getting your lawn on the right track or if you are noticing more mosquitoes and pests this year, we have two services that can help. Our 5-Step Lawn Health Treatment Program and our Outdoor Pest Control Services are great places to start. Contact us today to learn more and schedule a free consultation.
And, if you are searching for fresh picnic appetizer ideas – click here to read one of our past blogs.