Topiary

What are Topiary?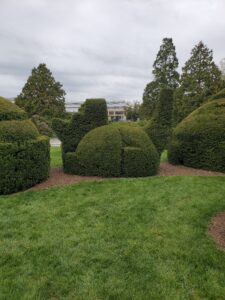 We love helping client's create a usable and beautiful outdoor space with their hardscape and landscape.
Topiary style of trees are one way to add personality and curb appeal to a landscape.
So, what are topiary?
Topiary are bushes, plants, and trees, that are artistically trimmed and shaped into various intricate designs. Evergreen shrubs and trees are commonly used for this horticultural practice.
Topiary are decorative "statement pieces" within a landscape. Therefore, they are great way to capture one's signature style within their outdoor space.
Live topiary styled trees, pre-designed, can be purchased or  a professional may be hired to trim standing shrubs to the homeowners liking. Due to the tedious nature of topiary, trees are trimmed frequently to keep up with the design.
The Environment
Chuck's Tree Service wrote a blog titled; The Tree Trimming Truth about Topiary. with the ins and outs of topiary.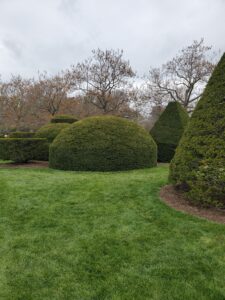 As always, we love when companies bring attention to the environmental nature of a project. Chuck's Tree Service makes a great point about trees and plants. "The more real trees and shrubs that surround a home, the more carbon dioxide that gets absorbed and more oxygen reintroduced into your air supply."
Their blog can be found by clicking here.
What do you think?
Is topiary a design choice you would like?
Are you looking for a fresh landscape?
Contact us today to chat about landscape installations and check out our website for service details. 
* Pictures were taken by our staff at Longwood Gardens. If you get the opportunity to visit the Gardens, it makes for a wonderful day trip.