Spring Blooms

Spring is in the air...
And, we are loving the warmer weather! To see the sunshine and colorful flowers popping up in landscapes around the county certainly brightens our day.
Are you looking for ideas of types of flower bouquets to get or blooms that will brighten your outdoor space? This blog is for you.
Also, we love visiting Longwood Gardens this time of year. Their spring gardens are lovely to walk through.
Let's dig right in to spring blooms.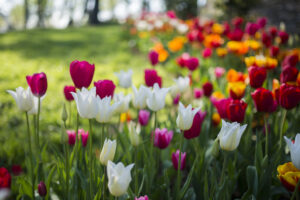 First up; tulips! Tulips are a perennial flower, meaning they should bloom in your garden year after year. These colorful flowers need full sun to grow and it is actually best to plant them during the fall season. They come in an array of colors, except for one. Blue!
Next on the list area peonies. Like tulips, peonies are perennials and like a location full of sun. And, if planted, do better in well-drained soil. These sweet smelling flowers look stunning in floral arrangements. Also, peonies come in a variety of colors; including pink, red, orange, yellow, and white.
Bluebells will grow in gardens over most of the United States and they can also be added to fresh-picked flower arrangements. These perennial beauties thrive in shady areas as they are woodland plants and add the perfect amount of color to any garden.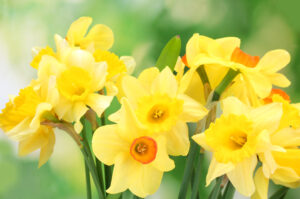 Last on the list are daffodils. These bright colored flowers are considered an easy spring plant. They can withstand the frostier temperatures and can be seen blooming early, sometimes even in February. Daffodils have yellow petals. They prefer full sun areas and represent rebirth and new beginnings.
Are you wanting to get your garden ready for the next season? Contact us about a landscape installation or custom planters.
Sources: Better Homes and Garden, PA Native Plant Society