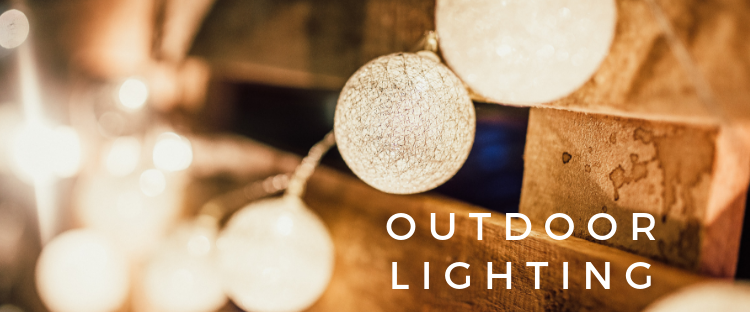 You know how sometimes it is hard to "make a decision" about something because there are just so many options?
Well, it is kind of like that with outdoor lighting. There are so many different light structures and types of lighting to choose from that sometimes it can feel overwhelming.
We hope with this blog; you will get some insight (and inspiration) on some outdoor lighting ideas! Having flawless outdoor lighting is not only practical for safety purposes but can also set the mood for entertaining or a relaxing quiet evening on the patio.
We are going to go in detail about ten popular outdoor lighting fixtures.
Flush Mount Sconces
(Image from Wayfair)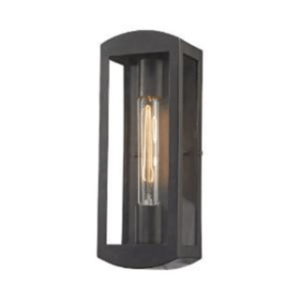 Flush mount sconces; simply put, are mounted flat against an exterior wall. Flush mount sconces are not only functional but can also be stylish. There are many designs of flush mount sconces so you can find a style that fits best with your décor!
Semi Flush Mount Sconces
(Image from Wayfair)

 
Semi flush mount sconces is where the light itself is attached to an arm that extends out. The plate is mounted to an exterior wall. And just like the flush sconces, there are many different styles of semi flush mounted sconces to fit in with your design.
Wall Lanterns
(Image from Wayfair)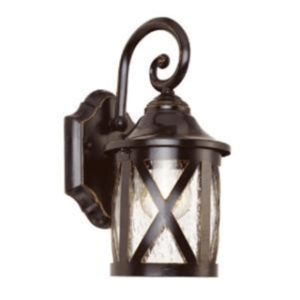 Wall lanterns fall into the semi flush mount family and many have a traditional style to them. Wall lanterns are a popular choice for exterior lighting due to their design element – which means they are not usually used for security purposes.
Barn Lights
(Image from Wayfair)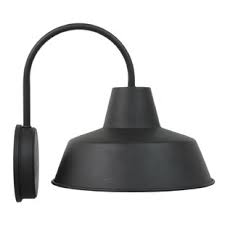 Barn Lights have a more casual and laid-back design to them then the traditional wall lantern. The thing about barn lights is that the light shines downward. However, most design options can be aimed to shed light in the direction you need.
Bulkhead Lights
(Image from Home Depot)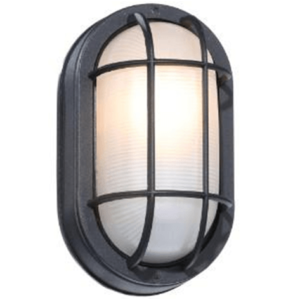 Bulkhead lights were made to keep the light protected with a cage-like design. This functional design allows the light to shine at 180 degrees. Bulkhead lights are industrial and sort of nautical in their own way. These lights would work well to light up a large outdoor space such as a backyard or pool area.
Spotlights
(Image from Lumens)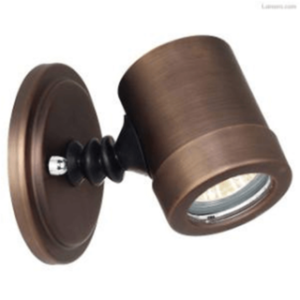 Spotlights shine brightly – but – in a focused area.  Spotlights can be used for security purposes and the light can be mounted to focus on a stairwell, exterior doors, walkways, etc. They can also be used to accentuate landscape, water features, or a flower bed.
Floodlights
(Image from Wayfair)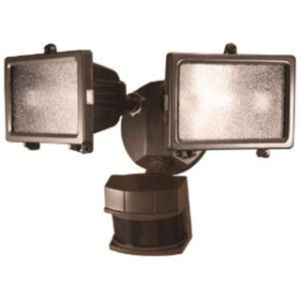 Floodlights, like spotlights can be used for security reasons. They are practical but not always aesthetically pleasing to the eye. Floodlights provide a large coverage area of bright light. If you have a patio and want a light that will cover the full outdoor space – floodlights may be for you.
String Lights
(Image from Home Depot)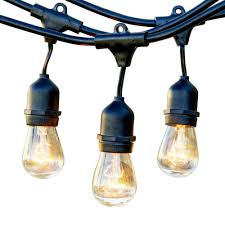 String lights add the perfect amount of ambiance to a backyard. They can be strung along a pergola or through the trees to create the cozy setting you are looking for. String lights are not mounted to the exterior wall the same way as the other lights we have discussed in this blog. With that – they are more affordable but do not have the same lifespan.
Motion Sensor Lights
(Image from Lowes)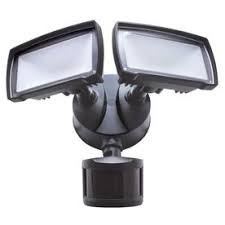 Motion sensor lights also work as security lighting as they would be off until someone (or thing) trips the sensor – this would be a hopeful preventive measure for criminals. There are a wide variety of design choices with motion sensor lights so you can choose what fits your style the best.
Lamp Post
(Image from Lowes)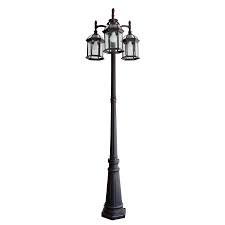 Lamp post lighting is usually used for more visually appealing purposes although can also be used for the simple purpose of wanting to have an outdoor light on all evening long. Having a lamp post on when you come home from work – especially when the clocks are turned back, and it is dark by 5 o'clock adds an element of comfort! There are many different materials for the lamp, post, and light to choose from – making it fit the outdoor décor perfectly!
Need some help lighting up your outdoor space?
Let us brighten your day by giving you an estimate and show you how outdoor lighting can make all the difference.
Give us a call at 717-275-2850 today to schedule or click here!
And for a guide of additional outdoor lighting resources click here.