Dreaming of a Garden

Dreaming of a Garden
Valentine's Day is just a few days away and after that, spring is right around the corner! This time of year is one of our favorites as we are meeting with clients, showing them design proposals and planning out the season ahead. If you have been dreaming of a beautiful, colorful garden – then this blog is for you! We hope you will find some inspiration and ideas for you own outdoor space!
Pansies (pictured below) thrive in the cooler weather so they are a great choice to plant early in the year. These perennials also give your garden or window boxes pops of color for the early spring (summer and fall). Pansies love areas where they will get a little shade or full sun.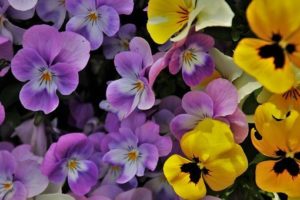 Bloodroots love the shade and are early bloomers – as early as March you can start to see the white petals peeking through the other foliage in your garden. These simple but beautiful plants can grow to be six inches tall and twelve inches wide.
Grape Hyacinth resemble grapes on their stems (hence the name). These purple toned flowers do the best in full sun or partly shady areas.  Another positive is that rodents do not usually bother with these bulbs. You will definitely think spring and sunny days ahead when you see these beauties in your garden.
As you can see below; Snapdragons can come in a variety of colors and can last from the spring through to the fall season – keeping color in your garden majority of the year. Snapdragons will grow the best in a full sunny or partly shady areas.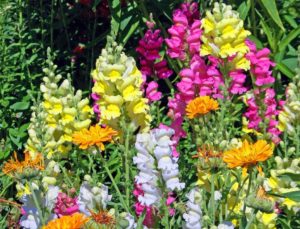 Sweet Alyssum is an elegant, hardy plant. This sweet scented foliage is loved by hummingbirds, butterflies, bees and other pollinators.  Alyssum is also great for hanging baskets, planters and window boxes to keep it in more of a controlled environment. Or, if planted in a garden it has a trailing habit as you can see in the picture which makes it great for larger gardens.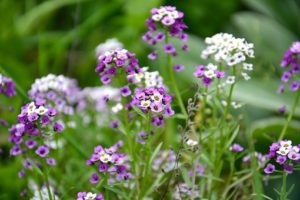 Contact us today to schedule a free consultation and let's design the garden of your dreams! Comment below your favorite flowers – we would love to know!
Sources: Better Homes and Gardens, The Spruce, Garden Design, House Beautiful