All
Landscape Design
Landscape Installation
Lawn Care
Patios
Ponds & Rain Gardens
Walls & Walkways
Dan F., Lancaster, PA, said: "We are very delighted with the work that was completed by Indian Run Landscaping! The crew worked very hard on a difficult job. My wife and I can now enjoy sitting in our yard again! Thank you!"
Bernie W., Mountville, PA, said: "From first call to the shop (Tammy) to the installation everyone Randy (owner), Jason, Ian and the crew were more than professional and friendly. Tammy took care of business. Jason listen to what I wanted, and I was very pleased when I saw his design. Ian and the crew were prompt, hard working, and friendly. I would recommend them to anyone. We'll be moving in 3-5 years, and I will use them again."
Marsheila R., Lancaster, PA, said: "Throughout the years they have transformed our yard into something to be proud of. Beautiful walls, patio, walkways and flowerbeds. They are skilled at what they do, very kind, and I would highly recommend them."
Clyde & Nancy W., Lancaster, PA, said: "Thank you for giving our home a new look! Jason developed a wonderful plan, paid close attention to our suggestions, and reviewed it thoroughly with us. He even went over it in the actual space as a final confirmation. Ian and the staff were excellent, hard working, careful and courteous. Each staff member here represented your company very well. It was a pleasure to have them working at our home. We are very pleased with the final result! It would be our pleasure to recommend your firm to anyone looking for new additional landscaping. Thank you for a job well done!"
Jim & Lori C., Lancaster, PA, said: "From start to finish, top quality job! Calls were returned, time lines were clear, they were open to my preferences and incorporated them into my design...they brought plenty of guys and our big job was done in one day. We just love the work and have already requested an estimate for another job!"
Christopher & Kelsey, Lancaster, PA, said: "Your guys were a pleasure to work with! We loved the plan and we are nothing but pleased with the execution. We have already recommended you to someone and we would not hesitate to provide a reference for your company!"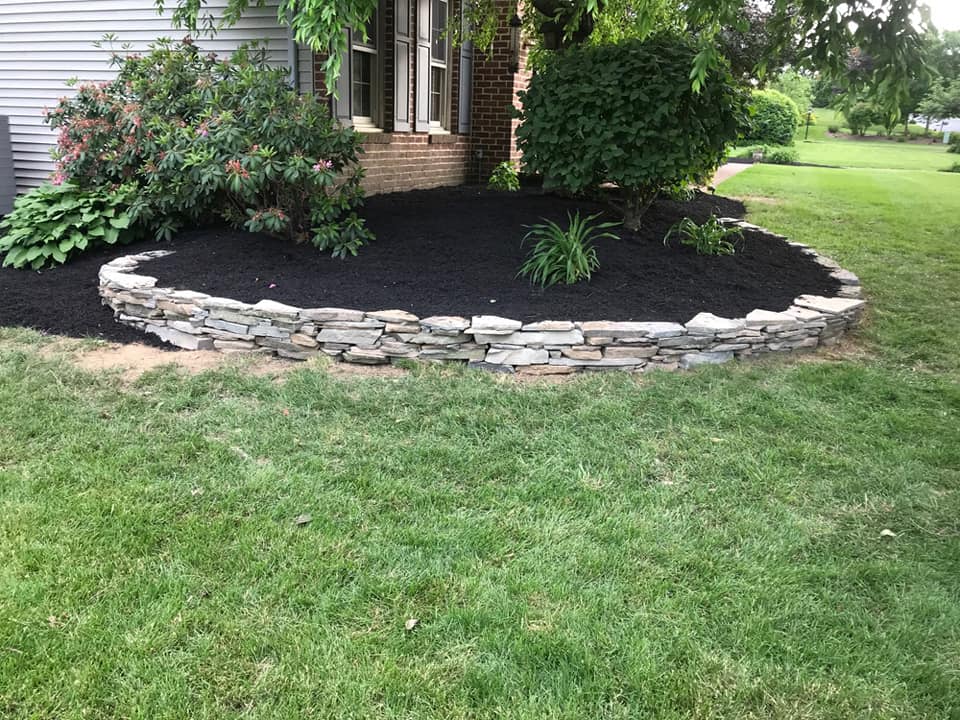 Jim & Lori C., Lancaster, PA, said: "We just LOVE the work Indian Run did! It was a big job! They brought 2 crews and trimmed bushes, edged beds, spread 16 yards of mulch, built that beautiful round stone wall, removed 2 dead shrubs and planted that beautiful rhododendron! All in ONE DAY! Tom, Ian and the crew are so professional and friendly and politely tolerated all my silly questions. Jason has great ideas and we look forward to the next project!"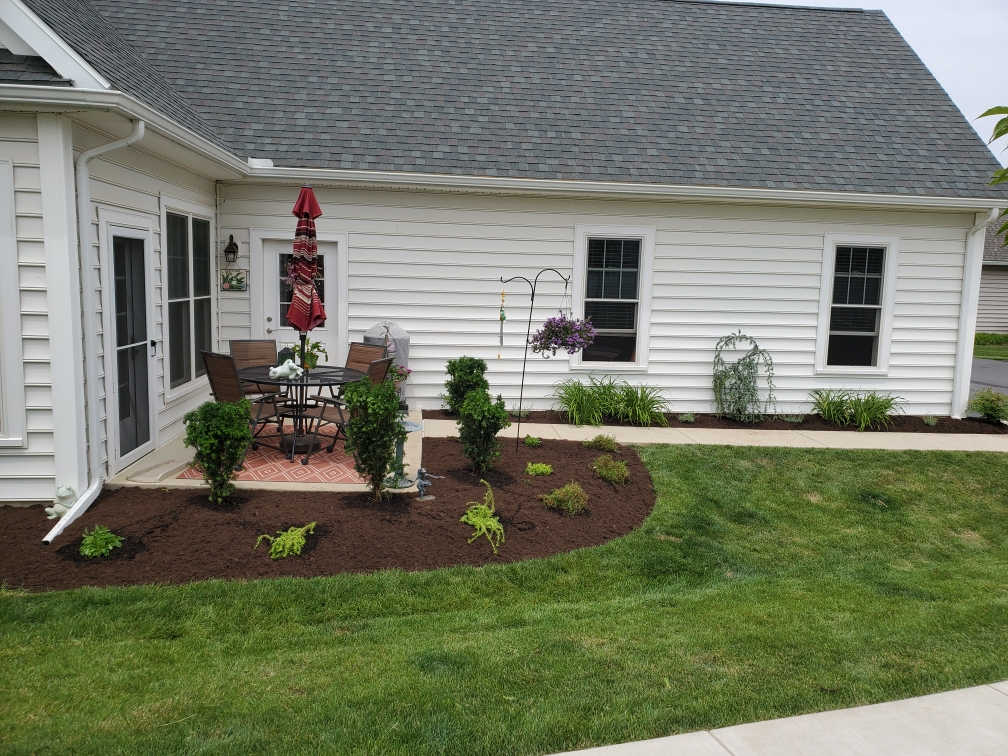 Chuck & Anne B., Lititz, PA, said: "I was impressed from the moment I went onto their website. I could choose online a date to meet with the landscape designer and Jason came within a few days. He took many photos of the areas that would be involved in the project. Within two weeks, Jason came back with a beautiful plan for our gardens with photos super-imposed of his proposed perennials, shrubs, and bushes...a spectacular variety of textures and colors! We eagerly signed the contract, learning that the project would most likely be completed in mid-to-late June. Needless to say, we were thrilled when the hard-working crew arrive on June 7 and completed our project in less than one day! We cannot recommend Indian Run Landscaping highly enough!"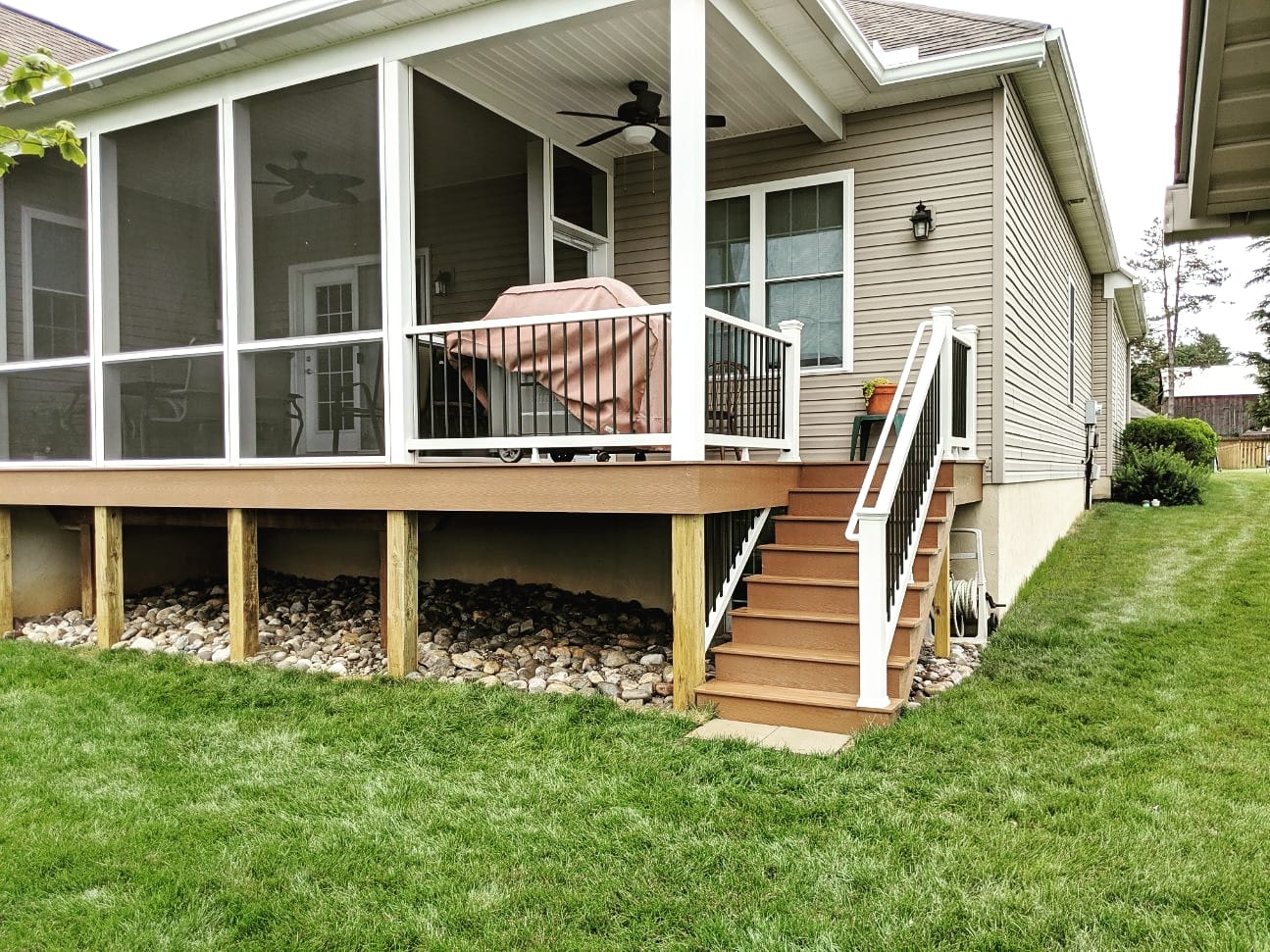 Debra M., East Petersburg, PA, said: "Your team delivered on customer service. We are delighted with the results and will continue to recommend Indian Run to others!"
Debbie E., Lancaster, PA, said: "Just wanted you to know how much I appreciate your employees from landscaping to office personnel. They are awesome to work with and always make sure that things are done the way I want them. You have been working and landscaping my yard now for over a year and the before and after photos are amazing. I am proud of my yard and am very happy that i found you as my landscaper just looking you up on the internet and reading other reviews. Make sure you relay my appreciation to all the individuals who make my yard beautiful. Thank you all so much. We will continue to use you on a monthly maintenance program. I certainly have recommended you to my friends. You all are a first class act. [2020]"