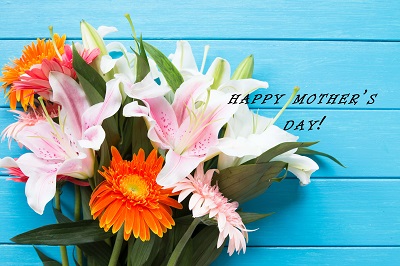 Celebrate MOM!
A little history about Mother's Day
In the 1850's, Ann Jarvis, who was a peace activist, created Mother's Day Work Clubs to talk about women's public health issues. These groups of women also cared for wounded soldiers on both sides of the US Civil War from 1861 to 1865.
It was in 1905 when Anna Jarvis began a campaign to make Mother's Day a recognized holiday in the United States.  The same year her mother, Ann Jarvis died.
In 1908, Anna Jarvis held a memorial for her mother, being the first celebrated Mother's Day, at St. Andrews Methodist Church in Gafton, West Virginia.  Anna wanted to have a day to honor mothers, because she believed that mothers are "the person who has done more for you than anyone in the world".                                                                     
In 1914 Woodrow Wilson designated the second Sunday in May to be Mother's Day.  Although this was not how Anna Jarvis had planned Mother's Day to be, she was not happy that people wanted to profit from the celebration in honor of Mothers.  
Well, we've come a long way since the Mother's Day of the 1800's!
How do you celebrate your Mother?
Flowers are often the gift mothers receive for their special day. Do you know what your mom's favorite flower is? I asked the mothers on my Facebook page what their favorite flowers were.
Answer:
Tulips, daisies, pink carnations, lilacs, lilies, calla lilies, sunflowers, gerbera daisies, and hibiscus.  All beautiful flowers to bring a smile to the even more beautiful moms that they are!  
Mother's Day is not just for mothers alone.  Remember to include mothers-to-be, and those you have a maternal bond with!
Give mom a gift certificate for the flower garden of her dreams!  
We'll design it and install it!
717-285-2750
So, don't forget, Mother's Day is May 14!