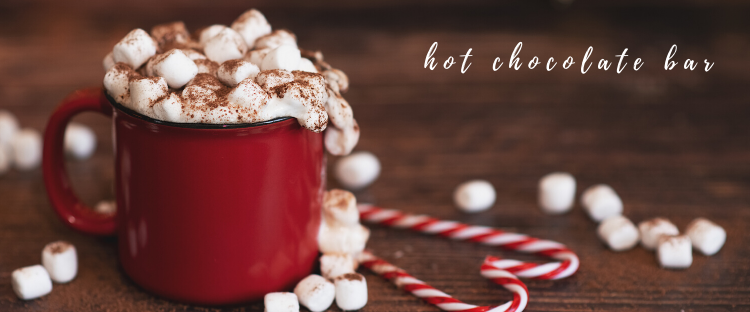 "It's the holiday season

And Santa Claus is coming round

The Christmas snow is white on the ground

When old Santa gets into town

He'll be coming down the chimney, down."
Now that Andy Williams has us in the Christmas mindset [you know, in case you weren't already…], we are diving in to all things hot chocolate!
________________________________________
Whether you are having a Christmas party or just a night in as a family – a hot chocolate bar is an easy way to make sure everyone's beverage is just the way they like it.
Here are suggestions to have at your hot chocolate bar:
Marshmallows

Whip Cream

Candy Canes

Chocolate chips

Cinnamon sticks

Cookie Chunks

Caramel drizzle

Christmas Sprinkles

Chocolate drizzle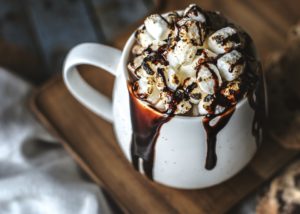 Besides the toppings for the hot chocolate bar we should also talk about the actual beverage!
If you are wanting to go the homemade route, here are two recipes to try!
Allison, from Celebrating Sweets, shares her favorite homemade hot chocolate recipes on her blog!
Here's what you need:
4 cups of milk

¼ cup of unsweetened cocoa powder

¼ cup of granulated sugar

½ cup of semisweet chocolate chips or melting chocolate

¼ teaspoons of vanilla extract


Heat the milk, cocoa powder and sugar in a saucepan over medium heat, whisk frequently until warm, add the chocolate chips and whisk until melted. Add in the vanilla extract and serve!
Or if white chocolate is your thing then this, Celebrating Sweets, recipe is for you!
Here's what you need:
4 cups of milk

1 cup of white chocolate chips or melting chocolate

1 teaspoons of vanilla extract
Place all the ingredients in the saucepan and whisk over medium heat! Once the mixture is melted together – it is ready to be served!
Easy, right?
________________________________________
Just thinking about these yummy hot chocolate recipes with all the fixings has us ready to deck the halls!
Let us know your favorite toppings in the comments below or on our social media pages!
And in the paraphrased words of Andy Williams, "May your every [hot chocolate] wish come true!"