2021 Christmas Bucket List

2021 Christmas Bucket List
Tis the season for Christmas trees, baking cookies and spending time with family!
Whether your Christmas list of things to do is longer than Santa's naughty and nice list or you need some suggestions – this blog will, hopefully, give you some ideas.
Have you already started listening to Christmas music? Definitely one way to get in the Christmas spirit!
The days are long but the years are short. Take those candid family photos. You'll be grateful, one day, you have those snapshots to look back on.
Christmas cards are always fun to receive. Whether they are e-cards or actual cards with an envelope and stamp – sending cards is a great way to stay in touch with family and friends.
Bake and decorate Christmas cookies is a must. Maybe this year, try a new recipe!
Hot chocolate bars allow for creativity! Marshmallows, whipped cream, or crushed candy canes; you can't go wrong with a sweet treat everyone can make to their liking. And if you need, you can check out our past blog with hot chocolate ideas here!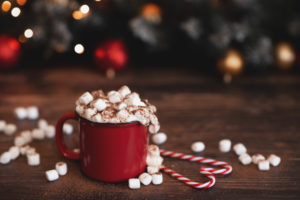 Watch Christmas movies and don't forget to play Christmas movie BINGO!
We might be a little biased but there is nothing like visiting a Christmas tree farm during the holidays and picking out your Christmas tree as a family. Check out hours and details for Hunt's Christmas Trees here!
Decorate your Christmas tree with lights and ornaments.
Let your creativity run free and make a wreath for your front door.
Need something to do out of the house? Hop in the car and drive around to look at Christmas lights.
Gingerbread is a favorite flavor this time of year! Have friends over, divide into teams and decorate gingerbread houses! You can even make it into a contest and post on social media to have other friends vote on their favorite!
Make paper snowflakes — easy and fun to do, especially with younger children!
Reconnect with out of town friends and family. Whether you host or meet up elsewhere, it is nice this time of year to catch up with those we don't see often.
Donate toys that your kids no longer play with to those who would be able to use them.
Attend a Christmas Eve service.
If you are local to Central Pennsylvania – here are a few places to visit:
Have you already started checking things off your Christmas bucket list? Share with us in the comments. We would love to hear what holiday memories you are making this year.